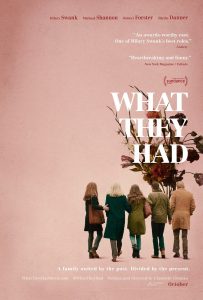 SALISBURY, MD—The American Association for Retired Persons (AARP) Maryland and the Alzheimer's Association host a screening of the 2018 drama What They Had 4 p.m. Thursday, April 25, in Room 153 of Salisbury University's Conway Hall.
A panel discussion on Alzheimer's, dementia and local resources follows from 5:30-6:30 p.m. Panelists include:
Jennifer Marvin, SU assistant professor of social work and interim director of graduate field education
Nancy Rodriguez-Weller, University of Maryland Eastern Shore assistant professor of pharmacy practice
Michele McIntosh, Peninsula Regional Medical Center emergency room nurse and SU D.N.P. student
Russ Houseal, caregiver
Dorinda Adams, Maryland Department of Human Services Office of Adult Services program manager
Carol Zimmerman, development and outreach coordinator for the Alzheimer's Association of Greater Maryland, Eastern Shore chapter, facilitates.
Part of AARP Maryland's "Movies for Grownups" series, the film stars Hilary Swank as a woman who returns home to Chicago at her brother's bequest to help handle her ailing mother and her father's reluctance to let go of their life together.
Admission is free and the public is invited.
Advance registration is required. To register, or for more information, call 1-844-418-2281 or SU's Center for Extended and Lifelong Learning at 651-690-6090, or visit the online registration page at https://aarp.info/WHT_Salisbury.