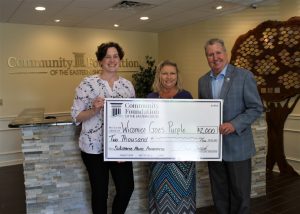 Salisbury Maryland – May 19, 2019
Members of the organizing committee for Wicomico Goes Purple were presented a check for $2,000.00 from the Community Foundation of the Eastern Shore to aid in this community effort which officially kicks off at Delmarva Shorebirds stadium on August 31, 2019. Businesses and organizations sponsoring the initiative contribute to the community efforts surrounding prevention, treatment and recovery.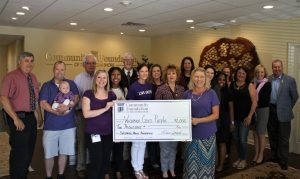 Honorary Co-Chairs for Wicomico Goes Purple, States Attorney Jaime Dykes and Wicomico Sheriff Mike Lewis,  will be on hand at Salisbury's Third Friday street event on June 21, 2019 to officially announce this initiative and the multitude of events associated with the initiative that are scheduled for the summer and September.
Wicomico Goes Purple: Get the Facts; Get Involved; Start Talking.
Contact:
Bill Chambers
President / CEO Salisbury Area Chamber of Commerce
bchambers@salsiburyarea.com / 410-749-0144