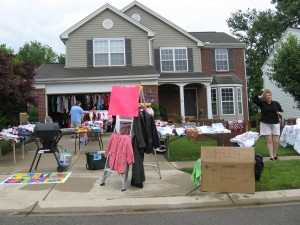 Clean out your house and fill your wallet at Wicomico Recreation's Indoor Community Yard Sale on Saturday, March 15 at the Wicomico Youth & Civic Center.
Table and booth rentals are available now at the Wicomico Youth & Civic Center Box Office (500 Glen Ave., Salisbury, MD,Monday-Friday, 9 a.m.-6 p.m.), online at www.WicomicoCivicCenter.org (online fee may apply) or by phone at 410-548-4911. Tables are $15 and booths are $40 for a 10' space including three tables. Set-up for sellers will begin at 5 a.m. on the morning of the sale. An early set-up option will be available on Friday evening from 5-8 p.m. A $5 early set-up fee will apply.
Doors will open to the public at 7 a.m. Those interested in shopping the yard sale can do so for just $2 at the door. Children under 12 are admitted free when accompanied by an adult. Proceeds from the sale will benefit Wicomico Recreation.
For more information, please contact Karen McInturff at 410-548-4900 x118 or kmcinturff@wicomicocounty.org.