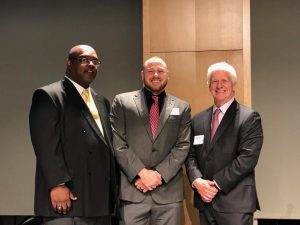 Maryland Capital Enterprises is proud to announce Jeremy Norton, Owner of Roadie Joe's Bar & Grill as
the recipient of the 2018 MCE Palmer Gillis Entrepreneur of the Year Award. The awards banquet was
recently held at Salisbury University. Runners up were Christine Braughler, Owner of Acorn Market
located Downtown Salisbury and Kenneth Shockley, Owner of Unique Styles Custom Home Builders in
Delmar, MD.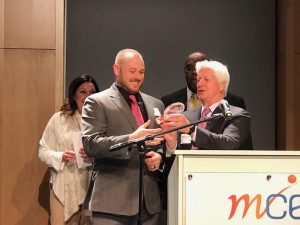 Presenting the award was Palmer Gillis, and MCE's Executive Director Maurice Ames. Jeremy was
awarded a plaque and a cash prize. The two entrepreneur finalists also received a cash prize.
Roadie Joe's Bar & Grill Owner Jeremy Norton:
Jeremy Norton is a Restaurateur born and raised in Salisbury Maryland. His restaurant experience
begins in 2001 at 14 years old at Dominos pizza. After graduating in 2005, he went on to work various
restaurant and bar-tending jobs in the area until the summer of 2012, when he was given the
opportunity, as an independent contractor, to run the Alcohol and Bar Service of the short-lived Aqua
Italian Restaurant. The relationship did not last long and the owners of Aqua Italian Restaurant closed
the door; but, as they say, with every closed door, new doors of opportunity open. In March of 2013
the restaurant had re-opened with the name that we all know today, 'Roadie Joes'.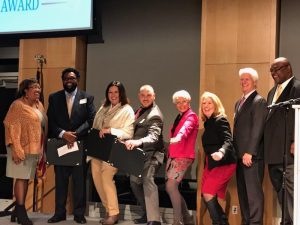 As the majority of Jeremy's experience was in the bar side of the operation, Roadie Joes opened
claiming themselves as a '4-star dive bar'. The key to the restaurant's success has been a constant
adaption and evolution. Josh Elliott, the General Manager, has been by Jeremy's side since the
beginning. In 2010, Jeremy and Josh brought on a key employee that has changed the way we all
perceive Roadie Joes: Chef Jason Myers.
Today, Roadie Joe's is known for its fun atmosphere and delicious food. The restaurant continues to
evolve, and is now eyeing a substantial renovation that would relocate the entrance of the restaurant
directly on the plaza, and would add an arcade to continue the fun atmosphere.
He has always been a frequent supporter and advocate of Downtown Salisbury and enjoys spending
time with his Wife, Jenee, and Daughter, Jenabelle.
Roadie Joe's Bar & Grill
213 West Main St.
Salisbury, MD 21801
#####