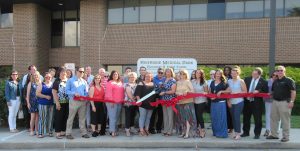 Members of the Salisbury Area Chamber of Commerce joined staff and friends of Balanced Life Counseling Services on June 6, 2019 for a ribbon cutting and open house celebrating their first year in business.
In operation since 2018, Balanced Life Counseling offers     a wide range of therapeutic services to promote psychological growth and emotional well-being in an inviting environment. Their highly personalized approach is tailored to the client's individual needs to reach personal goals and a balanced life.
Balanced Life has four full-time and four part-time therapists, some of whom work evening hours. In addition to adults and couples, their therapists serve children, adolescents and families to address anxiety/panic attacks, career concerns, depression, grief, health concerns, life transitions, parenting, relationships, stress, trauma and women's issues.
Prior to the ribbon cutting ceremony, Balanced Life owner and therapist, Laura Harrison, LCSW – C, thanked her staff, friends, and family for their support leading up to and throughout their first year.
In speaking about their mission, Harrison explained "We want to erase the stigma associated with counseling support. Taking care of your mental health is as important as taking care of your physical health. Seeing a therapist can be considered as 'normal' as seeing a primary care physician."
For more information about Balanced Life Counseling Services, check out their website, www.yourbalancedlife.net or call 443-978-8688.