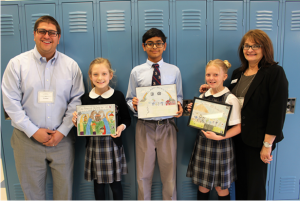 Lower Eastern Shore, Md. – The Coastal Association of REALTORS® (Coastal) has chosen three finalists in this year's Fair Housing Art Contest.
Harper Hertrich, 3rd grade, Worcester Preparatory School
Cora Lee Conway, 4th grade, Worcester Preparatory School
Ansh Batra, 5th grade, Worcester Preparatory School
Each finalist received a framed copy of their submission and a Visa gift card, compliments of Coastal.
The three finalists have been forwarded to the Maryland REALTORS®. Only one will be chosen for inclusion in the statewide 2020 Fair Housing Brochure. That winner will also be invited to Annapolis for a special recognition ceremony with the governor or other state official.
"We are so proud of these finalists, and all the children who participated in this year's contest," said Coastal President Bernie Flax. "The contest is a wonderful tool to teach kids about the importance of Fair Housing."
The annual contest is sponsored by Coastal and Maryland REALTORS®. "Fair Housing" pertains to the Fair Housing Act, which prohibits discrimination in the sale and rental of housing based on race, color, national origin, religion, sex, familial status, or handicap. In Maryland, discrimination is also prohibited based on marital status, gender identity, and sexual orientation. The contest aims to teach children that discrimination is not only wrong, but illegal.
Artwork submitted by students had to illustrate this year's theme, "One American – Housing For All."
For more information, visit www.coastalrealtors.org.
More about Coastal Association of REALTORS®
The Coastal Association of REALTORS® is fortunate enough to represent over 1,000 real estate professionals in Somerset, Wicomico, and Worcester Counties. These members are engaged, informed, and active in their communities. They support the American dream of homeownership, as well as the purchase and use of all types of real property. They are local. They are accurate. They are trusted. They are REALTORS® and affiliate members.
For more information on Coastal REALTORS®, visit www.coastalrealtors.org. The term REALTOR® is a registered collective membership mark unique to real estate professionals who are members of the NATIONAL ASSOCIATION OF REALTORS® and subscribe to its strict Code of Ethics.
###