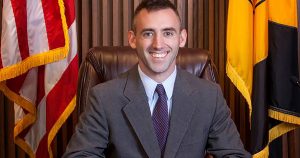 Salisbury – Mayor Jake Day is pleased to announce that this year, in celebration of the third annual Salisbury Poetry Week (April 1-7th), he will appoint the City's first Poet Laureate.  This two-year appointment will introduce the work of a significant area artist in the hopes of increasing awareness and appreciation of Salisbury's rich cultural life as expressed through the art of poetry.
Salisbury's Poet Laureate will work with local schools and the public to enrich the City's appreciation of poetry and the literary arts through area readings, workshops, and city-sponsored events during the two-year tenure.  The Poet Laureate will be selected by a panel of jurors and awarded a one-time honorarium of $250 for their service to the City.
Applicants for this honorary position must reside in Wicomico County. If you or someone you know would like to apply, please submit the following three items to lbaasland@salisbury.md:
A paragraph explaining what you believe qualifies you for the role of Poet Laureate
A 150-word biography listing past writing successes and achievements
A packet of 7-10 pages of your poems (in MS Word or PDF format, in a legible font)
The deadline for entry is March 1, 2019.  The winner will be announced during Salisbury Poetry Week on Thursday, April 4th at the Eastern Shore Voices Reading at Salisbury University, featuring Salisbury's 2019 Poet-in-Residence, Jane Satterfield.
Selection Panelists for the 2019-2020 tenure include:
Tara A. Elliott, Founder & Director of Salisbury Poetry Week
Heather Mahler, The Community Foundation
Stephanie Fowler, President, Maryland Writers Association, Lower Shore Chapter
Kenton Kilgore, President Eastern Shore Writers Association
Mary Angela Baker, Director, Salisbury University's Center for Extended and Lifelong Learning
Therese Hamilton, Director, Salisbury Wicomico Arts Council
John Wesley Wright, Professor of Music, Salisbury University
Robert Smith, Professor of Music, Theatre, and Dance, Salisbury University
Jamie Heater, Salisbury Arts & Entertainment District, Executive Director
###