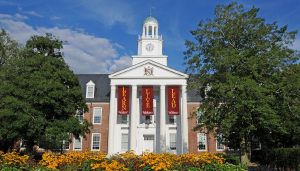 SALISBURY, MD—The Lower Shore Child Care Resource Center at Salisbury University hosts a screening of the documentary No Small Matter 6:30 p.m. Wednesday, April 3, in Perdue Hall's Bennett Family Auditorium.
The goal of the film No Small Matter, and the national engagement campaign, is to bring public attention to quality early care and education by sharing stories about the human capacity for early intelligence and the potential benefits for America's social and economic future.  The project examines how the United States is raising its youngest citizens, why making the most of this time in their lives is so crucial and what educators can do to change the perception of when learning begins.
A pre-screening reception begins at 6 p.m. Admission is free and the public is invited. Registration and visitor parking permit is required athttps://mdaeyc.org/nosmallmatter. For more information call 410-543-6650, emailkayungel@salisbury.edu or visit the Lower Shore Child Care Resource Center website at http://www.lowershoreccrc.org/.