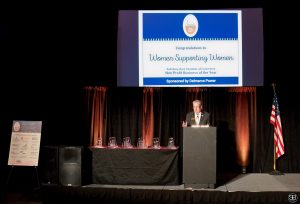 The 2023 Salisbury Area Chamber of Commerce and Wicomico County Tourism Annual Awards Luncheon was a celebration of the individual, business, and organizational achievements of 2023.  An audience of nearly two hundred attended the awards ceremony on Thursday, October 26, at the Wicomico Civic Center in the Normandy Arena.
SACC President/CEO Bill Chambers welcomed guests, "The Annual Awards Luncheon is an opportunity for the Chamber and our members to come together and honor the extraordinary contributions and successes of individuals, companies, and organizations all across Delmarva."
Zach Evans, SACC Chair-Elect and Community Relations Manager at Mountaire Farms was the Master of Ceremonies.
The event started with a delicious buffet lunch, followed by Zach Evans and Kristen Goller presenting the Wicomico Tourism Awards.
The Tourism Partner of the Year Award was presented to Homer King, Delmarva Wrestling Club; the Volunteer of the Year Award was presented to Eddie Dean and Andrew Emmert; the Business of the Year Award was presented to Burnish Beer Company, General Manager Nicole Bohnert; and the Hospitality Award was presented to The Hampton Inn Salisbury, General Manager Bill Dillon.
Zach Evans began the SACC portion of the ceremonies, introducing Christopher Hall of TidalHealth, who presented the SACC Member Volunteer of the Year Award to Jim Fuss, Business Development Manager with BBSI Salisbury.  Jim is a respected senior sales executive with over 25 years of sales and management experience.  Jim is a member of the Annual SACC Golf Classic Committee and a committee member of the Annual Ladies and Mixed-Team Golf Challenge.  BBSI has been an ardent supporter of these and many other Chamber events and supports Jim's involvement as a volunteer.
The SACC Ambassador of the Year Award was presented to Paula Nichols, owner of Motif Expressions Promotional Products, a local woman-owned company specializing in promotional products, embroidery, and more. Paula joined the Chamber Ambassador Committee in 2022, is the current Ambassador Vice-Chair, and works with members actively promoting the benefits of Chamber membership.  The award was presented by Aaron Guy, Director of Community Partners for Pohanka of Salisbury.
Tony Nicols of BBSI presented the Small Business of the Year Award to Johnsons Cleaning Services.  Bernard Johnson, CEO and owner of Johnsons Cleaning Services and The Car Cleaning King, has secured major contracts with high-profile clients, including Tyson Foods, Trinity Logistics, and the Dorchester County Health Department.  Bernard's dedication to excellence has also earned him the 2023 Coastal Style Best Cleaning Company, the 2022 MCE Palmer Gillis Award for Workplace Development Person of the Year, the 2022 Iron Sharpens Entrepreneur and Business Award, and the 2021 Coastal Style Best Cleaning Company.
Lora Walinskas of Effectv presented the Medium Business of the Year Award to The Delmarva Shorebirds.  The Delmarva Shorebirds have been a community staple since their first season in 1996.  The Shorebirds take pride in being active community members while providing the entry point of professional baseball for future stars of the Baltimore Orioles.  The Shorebirds front office staff continually look for new ways to engage in supporting youth programs, literacy with their "Hit the Books" and summer library reading program, engaging seniors with their "Silver Sluggers" club, and filling hundreds of donation requests to a variety of organizations on the peninsula, to name a few!  The 2023 AL East Championship Orioles roster included 12 players who started their baseball careers in Salisbury! General Manager Chris Bitters received the award.
The Large Business of the Year Award was presented to Mountaire Farms by Eric Morgan, CEO of Piedmont Airlines, and Jackie Jennings, Vice-President of People and Communications.
Mountaire Farms, the 4th largest chicken company in the United States, has been family-owned since 1914.  With more than 10,000 employees across five states, Mountaire Farms is committed to providing quality chicken at an affordable price locally, across the country, and worldwide.  Through its Mountaire Cares program, the company makes a difference for people who live and work near its facilities.  Their well-known Thanksgiving for Thousands program has provided a nutritious and delicious meal to more than 1.5 million people since it started more than 25 years ago.  But their generosity extends all year long as they deliver chicken to dozens of food banks and church pantries across Delmarva monthly. The award was accepted by Amanda Irwin, Senior Director of Processing Operations.
The SACC Business Professional of the Year award was presented to Bret Davis, owner of Davis Strategic Development, LLC, by Dr. Christy Weer of the Franklin Perdue School of Business and John Hickman of BEACON at Salisbury University.
Bret Davis is a Salisbury University graduate specializing in commercial and residential rental portfolios and has brokered hundreds of transactions.  He is a partner in Davis Strategic Development, with over 50 buildings under ownership, and manages over one million square feet of space. Bret started Simple Fiber in 2021 with his brother and partner Brice Perdue, and Simple Fiber supplies internet to hundreds of local businesses and residents.
Andrew Duley of Seagull Disposal presented the Environmental Service Award.  This year's award winner is Beach to Bay Heritage Area.  The Beach to Bay Heritage Area is a non-profit organization dedicated to preserving, promoting, and protecting our cultural heritage, historical linkages, and natural resources on the lower shore.  Under the auspices of the Maryland Heritage Areas Authority, the Beach to Bay Heritage Area has been a state-certified heritage area for 20 years.  Board President Kristin Goller and Treasurer Mindie Burgoyne accepted the award.
The Agriculture Ambassador of the Year Award was presented to Amick Farms by Kevin Dennis of Perdue Farms.  Steve Holsten, Grain Procurement Manager, Amick Farms, accepted the award.
Founded in 1941 in Batesburg, South Carolina, Amick Farms is dedicated to supplying consumers with quality chicken products at reasonable prices.  With one small chicken house, a wood-fired wash pot, and 500 baby chicks, A.D. "Chick" Amick packed fresh-dressed chicken in barrels of ice and loaded them on the back of a B-Model Ford for delivery.  In 1972, Chick's son, Bill Amick, brought Amick Farms into the 21st century by creating a marriage of traditional values and new technology.  In 2006, OSI Group acquired Amick Farms to expand its meat processing portfolio.  Amick Farms is part of the 10th largest meat manufacturing company in the world.  Today, over 80 years later, Amick Farms has grown to more than 3,500 team members, more than 400 family farm partners, and three integrated poultry production complexes in Batesburg, SC, Hurlock, MD, and Laurel, MS.  Producing over 1.4 million pounds of quality chicken products annually, quality, integrity, and service remain core values at Amick Farms.
John Petito of Delmarva Power presented the Non-Profit Organization of the Year Award to the Women Supporting Women.
Women Supporting Women's mission is to provide awareness, education, and support to those affected by breast cancer.  WSW is in its 30th year, serving from beach to bay and from the bottom of Delaware to the top of Virginia's eastern shore.  They collaborate with Mercy Medical Center, TidalHealth Salisbury and Nanticoke locations, and Atlantic General Hospital.  Last year, from every dollar raised, .72 cents went back into the community to provide FREE programs and services to those diagnosed with breast cancer.  Their staff and Board members are significant contributors to the organization, providing their time and talents to support those going through their breast cancer journey. The award was accepted by Cindy Feist, Executive Director, WSW.
The New Business of the Year Award was introduced this year and sponsored by the Bill and Patsy Rommel Center for Entrepreneurship at Salisbury University and the Eastern Region of the Maryland Small Business Development Center.  The business must have been established on or after October 2021.  Rick Liebowitz and Mike Jensen presented the award to Joe Bean, owner-operator of the Grocery Outlet.
Grocery Outlet is an extremely valuable grocery retailer, saving customers 40-70% on name-brand, high-quality products compared to conventional grocery stores.  Grocery Outlet offers a selection of fresh produce, meat, dairy, deli, packaged groceries, frozen, health and beauty care, and general merchandise products.  Each store is run by independent owner-operators who live locally, hire locally, and give back to local organizations.
Bean described his first visit to Salisbury before he decided to open his store here, "This town is like Mayberry, everyone greets you, everyone is genuinely friendly and welcoming.  I told corporate, this is where I will open my store".
The Chamber Hall of Fame Award acknowledges an individual who has exhibited a demonstrated history of career achievement, a sustained commitment to the advancement of our region through their unselfish leadership, a commitment to making a difference, and unparalleled professionalism among their peers in the community.
Maurice Ames, Executive Director of Maryland Capital Enterprises, presented the 2023 Hall of Fame Award to Palmer Gillis, Founder of Gillis Gilkerson, a Salisbury native and graduate of Salisbury University.
In 1983, Palmer Gillis drafted a business plan in the back of his Printing Plus office in Downtown Salisbury that would become Gillis Builders.  The company was formed in August 1983 and broke ground on its inaugural projects in Ocean City, MD.  Soon after, Tony Gilkerson joined the firm, and Gillis Gilkerson was formed.  Over 40 years and over 2,000 major construction projects, Mr. Gillis, his partners, and team members transformed a small commercial construction firm into one of the largest, most versatile full-service general contractors on Maryland's Eastern Shore.
Gillis shared with the two hundred attendees his gratitude, "This community and its leaders made it possible for Gillis Gilkerson to succeed.  Having leaders who all pull in the same direction is what makes a community succeed.  I am honored to be inducted into the SACC Hall of Fame, along with many of the past inductees having been leaders that I have worked and grown with."
Citations were also presented to the award winners on behalf of the Maryland Senate and House of Delegates.
Congratulations to all this year's awards winners and a special thank you to the award sponsors, the SACC Patron Sponsors, photographer Steven Bergman of SB Studios, the Wicomico Youth & Civic Center staff, and all those who attended to celebrate these outstanding individuals, businesses, and organizations.