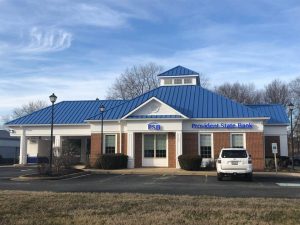 SALISBURY, MD – March, 2019 – Gillis Gilkerson, one of the most stable and trusted construction management and general contracting firms on Delmarva, announced the completion of renovations to 1105 Mt. Hermon Road in Salisbury, Maryland for Provident State Bank.  The GGI team did a total gut of the 2,487 square foot buildings' interior and added glass walls and a new roof top cupola.  The exterior of the new bank includes a blue metal roof and white trim to enhance its curb appeal.
"We are fortunate to have the opportunity to provide Provident State Bank with another universal branch bank on the Shore," said Dwight Miller, president, Gillis Gilkerson.  "We support the company's initiative in rolling out a new way of banking to the community through technology, yet keeping a personal touch to enhance one's banking experience."
The bank is equipped with a teller pod as you walk in the door, an updated ATM with image deposit and associates will be able to help all customers with any type of banking transaction.
"We had a great experience working with Don and Bill from Gillis Gilkerson on this project," said Shelly Towers, deposit operations manager, Provident State Bank.  "They were great communicators and kept the job on schedule so we were able to open when expected.  This is our first branch in Salisbury so we are new to the market and we're excited to have a presence in Wicomico County."
Gillis Gilkerson project manager Don Murray and superintendent Bill Schiavo, completed the project on time and on budget for Provident State Bank.
About Gillis Gilkerson
In its 35th year of building and real estate development on Delmarva, award-winning Gillis Gilkerson has built a reputation as one of the most trusted Construction Management and General Contracting firms on the Peninsula.  From new commercial construction to renovation, the company's construction managers offer broad and deep experience in diverse industries such as medical, industrial, manufacturing, hotels, multi-family housing, houses of worship, restaurants, retail, schools and more.  Its full-service real estate development expertise offers custom solutions for land purchase, building program development, turnkey project management, obtaining permits and approvals, property management, market property, purchase, lease and lease/purchase options.  The team works in conjunction with architects, government planners, engineers, surveyors, inspectors, contractors and leasing agents to manage the development process from concept to completion.